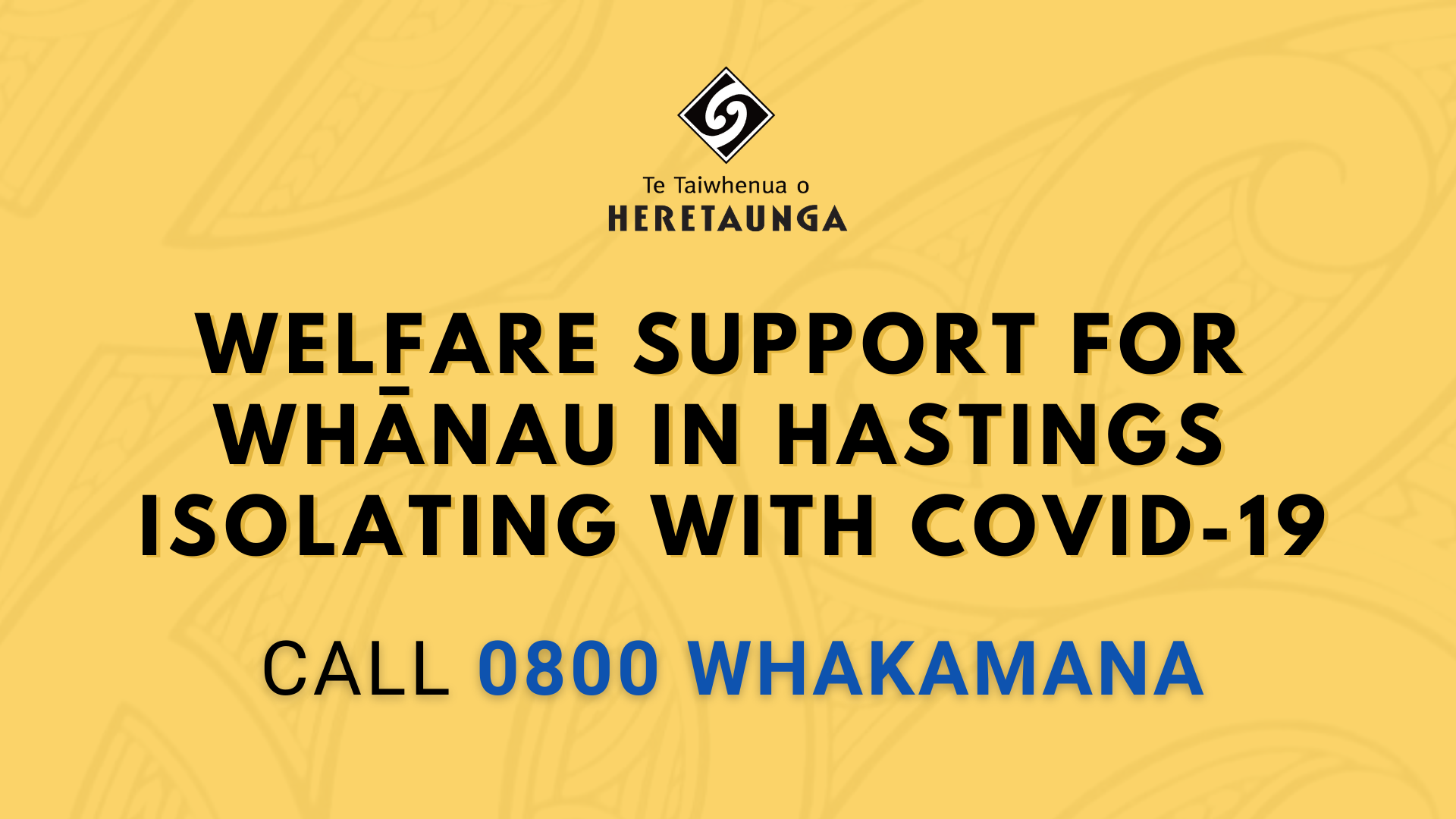 Covid-19

You do not require a vaccine certificate to access our support.
Our Whakamana Roopu are here for you!
If you live in Hastings and you are isolating at home and need support. Please call or email us:
call 0800whakamana (0800 942 5262)
You can be assured that all kaimahi at Te Taiwhenua o Heretaunga are fully vaccinated and can provide the support you require with correct PPE at all times.
We know that the first line of defence against Covid-19 is the vaccine. We encourage everyone who is eligible to receive the vaccine to get vaccinated to keep themselves and each other safe. We are also able to provide booster shots to those who received their second vaccine six months ago. Click on the link below to book your vaccine or find a place near you that provides the vaccine.
About AstraZeneca Vaccine
The AstraZeneca COVID-19 vaccine is now available for those aged 18 and older who cannot receive the Pfizer vaccine, and for people who would like a different option.
Pfizer remains the preferred COVID-19 vaccine for use in New Zealand, reflecting its excellent safety and effectiveness profile. Both the Pfizer and AstraZeneca vaccines will protect you against the symptoms of COVID-19. Both vaccines are free.
You'll need two doses of the AstraZeneca vaccine. The second can be given from 4 to 12 weeks after the first. To ensure you have the best protection, make sure you get both doses of the vaccine.
The AstraZeneca vaccine has been thoroughly assessed for safety by our own Medsafe experts. Medsafe only grants consent for using a vaccine in Aotearoa once they're satisfied the international evidence shows benefits outweighs the risks. There have been no shortcuts taken in granting approval. The AstraZeneca vaccine has been used successfully by millions worldwide.
If you wish to have the AstraZeneca vaccine, you will be required to give signed consent.
For more information on AstraZeneca Vaccine click here
Getting Tested:
Common symptoms of COVID-19 are like those found with illnesses such as a cold or influenza. You may have one or more of the following:
new or worsening cough

sneezing and runny nose

fever

temporary loss of smell or altered sense of taste

sore throat

shortness of breath
Less common symptoms of COVID-19 may include diarrhoea, headache, muscle aches, nausea, vomiting, malaise, chest pain, abdominal pain, joint pain or confusion/irritability. These almost always occur with one or more of the common symptoms.
Symptoms tend to arise around two to five days after a person has been infected but can take up to 14 days to show. The virus can be passed onto others before they know they have it – from up to two days before symptoms develop.
If you have any symptoms please call Healthline on 0800 358 5453 24 hours a day, seven days a week or talk to your doctor.
Rapid Antigen Testing
Please be aware of the TWO eligible criteria to receive RAT tests here:
Ordering RAT tests
You can get free RAT Tests by ordering online and picking them up from Taiwhenua Pharmacy
You will need to be able to show:
your verification letter for the CCES programme (from MBIE)

personal ID (for example, your driver licence)

Close Contact verification (text message or NZ COVID Tracer app alert).
For information about Rapid Antigen Testing, please click here
Ka mate kāinga tahi ka ora kāinga rua
Preparing for Covid-19 @home
Here are a few things to consider and prepare for in the event that you or someone in your whare needs to isolate at home.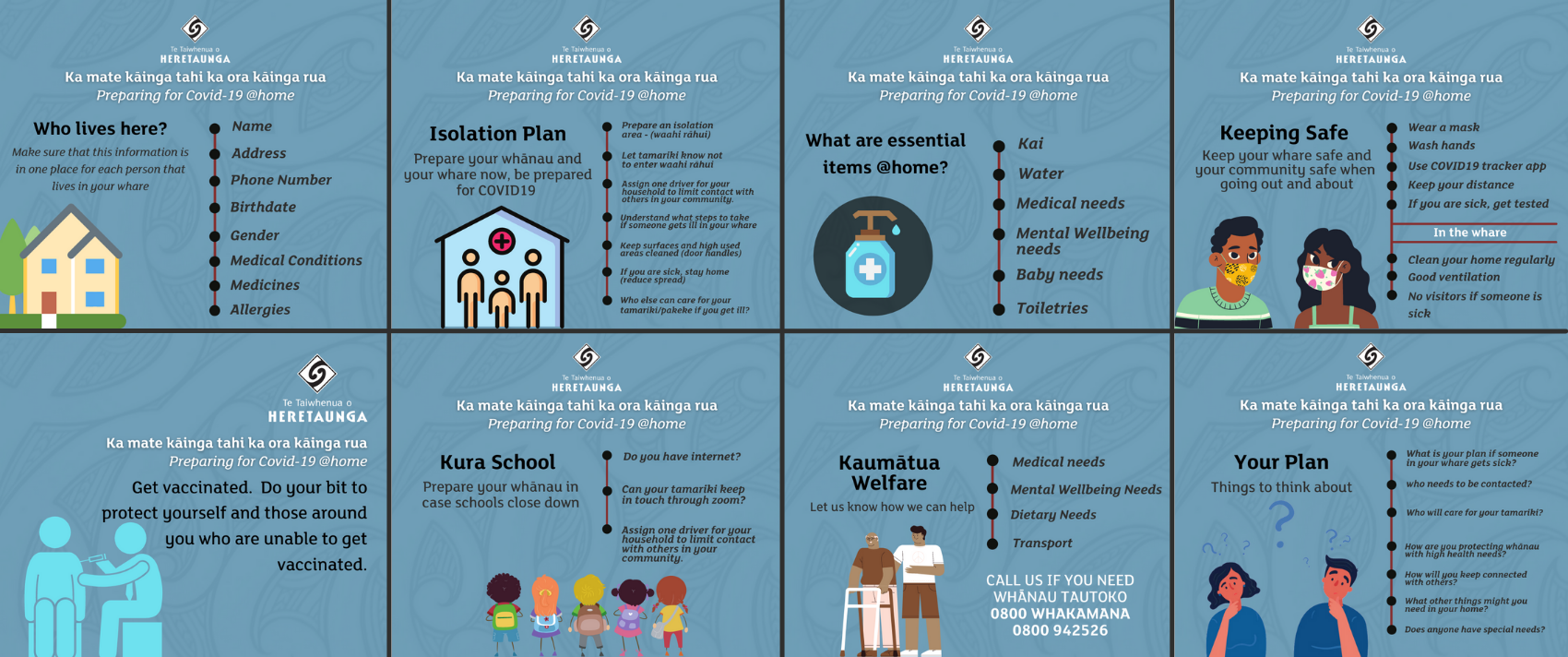 Stay safe / stay sane

Covid-19 @home

Oranga Hinengaro | Oranga Tinana

Good ventilation in your room

Your own phone charger

Netflix

Puzzles

Playing cards

Podcasts

Notebook and pen

Easy heat meals

(boil up, bone broth soup)

Peppermint or Ginger Tea

Sleep drops are helpful

Box breathing

Gentle breathing techniques

Write out your medical background and any medications you usually take and make sure this can be easily found.

First Aid Kit for

Covid-19 @home

This is not a subsitute for medical advice or care

Tissues

Paracetamol

Heat and cool packs

Ice blocks

Electrolytes

Rongoā Māori

Vicks or eucalyptus for steaming

Saline nasal rinses/sprays

Kawakawa or other balms

Bowl and towel for head steaming

Throat spray/lozenges

Extra pillows and blankets

Warm clothes

Make sure that you have your own access to masks, gloves, hand sanitizer, disinfectant and cleaning products separate to the household.
If you are isolating with your whānau at home and require support
call 0800 WHAKAMANA