Weaving Whānau Wellness
Nau mai haere mai and welcome to Te Whare Pora, the house of weaving.
Te Taiwhenua o Heretaunga is excited to have a presence in Pā Harakeke, offering free weaving wānanga for hapu whānau to learn about weaving for haputanga (pregnancy).
Te Whare Pora is a kaupapa Maori space, with tikanga and kawa, values that will provide whānau with opportunities to link with other community members while experiencing pathways towards wellness through raranga, manaakitanga and whanaungatanga.
Wānanga will involve harvesting, karakia, tikanga, harakeke weaving and pūrakau (storytelling).
You will find us at :
Shop 16, Flaxmere Shopping Centre,
12 Swansea Road, Flaxmere.
Te Whare Pora Haputanga Weaving Workshops
As part of our haputanga weaving mahi, we are offering weaving workshops with an introduction to tikanga and harvesting for larger projects.
Small beginner projects you can make in the workshops, these include:
· Mauringa (bracelet) 2
· Basic putiputi (flower) for a small bouquet
· large lily
· 2 corner konae
· 4 corner kono
Hapu mama and whānau workshops are on Tuesday, Wednesday, and Thursday, and involve whānau coming and learn to harvest with us and start you making ipu pito(umbilical container, ipu whenua (placenta container), muka taura (flax fibre cord) for your pepi.
Mauri ora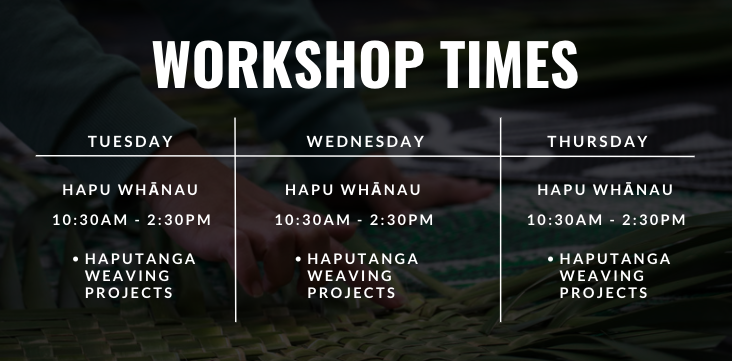 &nbsp
Gallery is loading. Please wait. Javascript will need to be enabled to view it.