News
Te Taiwhenua o Heretaunga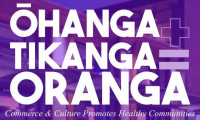 Heretaunga Taiwhenua is hosting one of the hui in Hastings at the newly opened Hawke's Bay Opera House - ToiToi Centre on Tuesday, August 18, the hui will be held from 9am-3pm
Taiwhenua chief executive George Reedy says the key objective of this hui will be on empowering not only emerging Māori enterprises but other small businesses that were badly affected by the Covid–19 alert level 4 lockdown.
The first part of the day will involve a number of short presentations from groups and agencies who help businesses. Presenters include funding agencies, government agencies such as the Ministry of Social Development, the Department of Inland Revenue, banks and small business brokers.
The second half of the day will involve a "Dragon's Den"-style setting and presentations from 10 small businesses that will have the opportunity to highlight their business and share what innovative things they are doing to progress their business through the effects of Covid-19.
A panel of experts will judge the presentations. The top two innovative businesses will receive a $2500 cash fund to support their business.
The hui will end at 3pm, but there will be an opportunity for agencies to have booths where a speed-dating style of networking will take place to allow one-on-one discussion.
It's geared up to be one of the best economic summits and one not to be missed. All participants will need to register to attend.