Blog
Te Taiwhenua o Heretaunga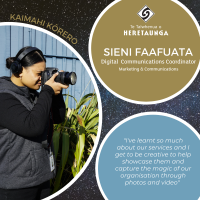 Introducing our new series Kaimahi Kōrero, where we get up close and personal with our kaimahi asking them some pātai, getting an insight into our organisation and our people.
Please introduce yourself
Talofa lava
Ko Mount Fito te maunga
Ko Tafatafa, Falealili te iwi
Ko Alaimoana te hapū
Ko Malaemalu te awa
Ko Pasifika te Moana
No Hāmoa ahau
Ko Sieni Faafuata tōku ingoa
I have been at Te Taiwhenua o Heretaunga for about 8 months as the Digital Communications Coordinator within the Marketing and Communications Team.

Tell us about your mahi
I'm always the one with the camera in my hand. From editing videos to creating promotional designs for our services. Anything with digital creations, that's me!

What makes you proud to work at Te Taiwhenua o Heretaunga?
Being in an organisation that manifests culture and respects diversity is the very reason why I love and am proud of working at Te Taiwhenua o Heretaunga.

What do you like most about your job?
Being able to have the freedom to use my creativity. Challenging myself beyond my limits, I learn so much every day!

What motivates you to come to work?
My parents are my motivation to come to work. The reason being is because they've come to Aotearoa not having much. All they wanted for us was to have a better future, so this position is a blessing especially when it's a job that I love to do every day.